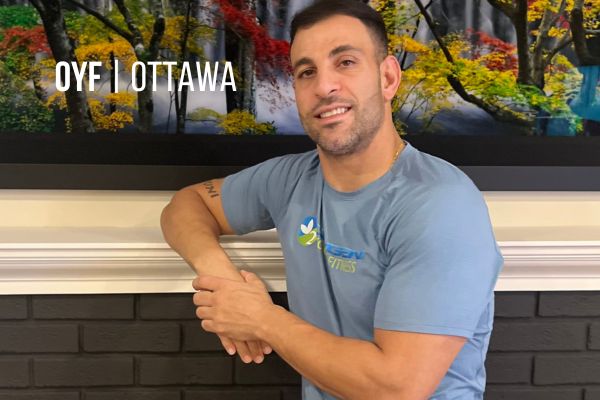 Have you ever thought about how one decision can impact the trajectory of your career, your well-being, or your life? Ottawa master franchisee Dimitri hopes coming into the studio can be that one thing for Oxygen Yoga & Fitness members
"It's a domino effect. You do a really good workout, then you want to hydrate after. You don't want to go have a coke or, you know, like a McDonalds meal". Dimitri shares the hope that when members come into the studio "we can be the initial pull to that sort of mindset and then they start eating clean and they start coming to more classes and they start spreading the word, it's a domino effect and that's what I want when people leave the class. That's how I want them to feel".
Dimitri's involvement in Oxygen Yoga & Fitness, like this goal for members, started when trying to solve a single problem. Prior to working with OYF, Dimitri had been an entrepreneur in the restaurant space.
"My family's got a big history in the restaurant industry" Dimitri shares. "They've owned a restaurant on the canal here in Ottawa and we've had it since I was a kid in the early 90s. I used to serve there, just worked my way through university and so we saw an opportunity presented itself to buy an existing restaurant in 2013 so we ended up buying a restaurant".
The restaurant Mexis is a franchise whose presence Dimitri revitalized in the Ottawa region, expanding to open two more restaurants in 2018 and 2019, and then franchising an additional two locations. When the restaurant industry was shaken by the pandemic, an opportunity presented itself to utilize part of the restaurant space in a new way
"We were coming out of the pandemic and our restaurant itself is a huge space we ended up leasing, so we had a back party room that ran into a separate entrance" Dimitri explains. "So the walk-in business all came back post-pandemic but the big parties never came back".
In trying to find a use for what had previously been the party space, Dimitri looked to the fitness industry.
"My brother and I always had an inclining for fitness in general" Dimitri explained. "So we both played university football, so we learned a lot about our bodies and just training and stretching. We used to do a lot of yoga with the teams actually, because they saw the benefits of it, so they kind of passed that knowledge on down to us. So one thing led to another.."
In this case, what it led to was researching infrared technology. After experiencing infrared technology at a Central Florida based studio called Hotworks, Dimitri researched further and found Oxygen Yoga & Fitness, which led to meeting OYF CEO Jen Hamilton.
"She was great, awesome. I told her my story exactly like it is now with the restaurants and I think she believed in me to help carry the brand in Ottawa" Dimitri shares. "[…] So initially it was just like hey we want the one studio. We're ok, we just need to do something with the space. But then I did more research and I kept talking to Jen and [Oxygen COO] Melissa and then I went to the Oshawa studio itself and did a class and really experienced it for myself, I was really bought in with the brand and I've been super happy since".
Now, Dimitri acts as master franchisee for the Ottawa region of both Mexis and Oxygen Yoga & Fitness. While this may sound like a handful, Dimitri shares that as the Oxygen brand continues to grow, it helps that there is a symbiotic relationship between the two responsibilities.
"Everything I've learned from this franchise for the restaurant, the Mexis franchise, in terms of just following the guidelines of success, I've adopted to Oxygen". For example, Dimitri has learned the importance of following the structure built into the franchise. "You can't just be Indiana Jones and do your own thing. You need to follow the guidelines from the franchise because that is what is gonna be successful".
What Dimitri's most proud of throughout this whole journey has been the team at the studio. For example, Dimitri shares "Our general manager, she was when we first hired her she was a hostess for our Orleans location, so I've known her since she was seventeen. She's twenty-three now. She went to dental school. She finished all of her education and I took a chance and approached her about this opportunity. She's teaching classes now. She's selling like crazy. She jumped all over it".       
If you want to make that one first choice that could create a domino effect in your life, come meet the incredible team at one of the Ottawa studios, try Dimitri's favorite class 20/20/20, or even join the Orleans studio for an upcoming meditation, board games, and appetizers event they've got in the works, be sure to keep up with the studio on Instagram or at their website.