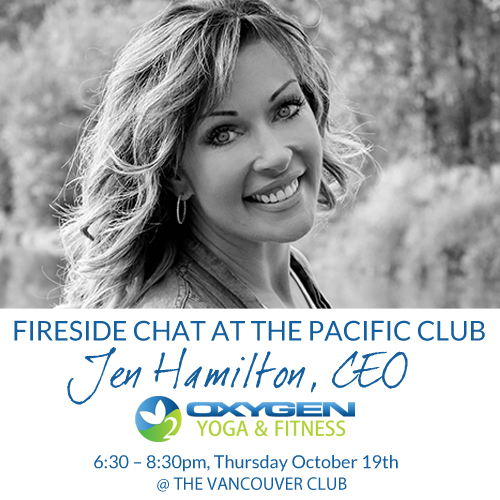 The Pacific Club presents Jen Hamilton, CEO of Oxygen Yoga & Fitness.
Oxygen Yoga & Fitness is a well-known Canada-wide franchise with over 60 locations and growing, that offers a wide selection of classes.  Oxygen's philosophy is  helping people to adopt a healthy lifestyle,  using yoga as a foundation,  and incorporating other fitness methods.
CEO and founder of Oxygen, Jen Hamilton, joins us on October 19th for an exclusive fireside chat about her experience in building such a large brand in a short period of time, and her passion for empowering others to make lifestyle changes for better health and personal growth.  We will discuss how she got started in the fitness industry, and grew the company to what it is today – all while learning to love fear as a single parent of three – and following her dreams.  You've certainly heard of Jen and her company online, on the radio, and in print before – her personality is dynamic and her energy is compelling.  This is one entrepreneur, business professional and insightful speaker not to be missed.
When: 6:30 – 8:30pm, Thursday October 19th
Where: The Vancouver Club (915 W Hastings St, Vancouver)
Tickets: Free for Pacific Club Members; $45 for guests
Format:  Fireside chat with Jen