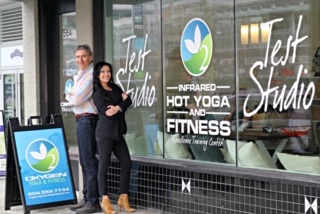 VANCOUVER, Feb. 5, 2019 /CNW/ – Oxygen Yoga and Fitness today announced a landmark investment by Canadian fitness visionary David 'Patch' Patchell-Evans, founder of GoodLife Fitness. This investment will support the growth of the successful boutique studio franchise chain, which offers yoga-fused fitness at 49 locations across Canada.
"Patch is a true leader in the fitness and health industry, both in Canada and around the world," said Jen Hamilton, CEO of Oxygen Yoga and Fitness. "Oxygen has seen tremendous success over the past several years and we're eager to continue on this journey. Patch's recognition of our value proposition and his support as we continue to grow are invaluable – and will help Oxygen continue to reach more Canadians and explore expansion options globally."
Oxygen's philosophy is based on a foundation of helping people to adopt a healthy lifestyle, using yoga as a starting point.
"I've been very impressed by what Oxygen is doing and the success they've seen in just a few years," said Patchell-Evans. "I'm proud to be part of their future success and to continue to help people across Canada achieve their fitness and health goals. I'm a true believer in the importance of fitness in all of our lives and committed to providing more diverse options to everyone."
About Oxygen Yoga and Fitness
The Oxygen parent company started in 2008 with the first franchise location opening in March of 2012.  Since then, Oxygen Yoga and Fitness has been steadily expanding and growing. There are currently 66 locations sold across Canada, supported by a corporate test studio in Vancouver. Each offers a wide variety and selection of traditional yoga and fitness fusion classes held in Oxygen's signature FAR Infrared studio. New Oxygen Yoga and Fitness locations are set to open this year in Manitoba, Ontario and Nova Scotia. For more information please visit oxygenyogaandfitness.com